It just seems like this month has whizzed past it doesn't seem that long ago that I was writing about what I got for Christmas, though saying that it definitely seems like a long time since I finished my Christmas chocolate!
Also just a little side note, you nearly didn't get a favorites today as me being my forgetful self only went and left my camera out in the rain all night (typical UK weather!) Luckily it still worked, so just in case any of you didn't know I don't advise you doing that.
Now I know I've already shown you these willow patterned Dr Martens but I thought I'd put them in there again as I love them so much. Now that I've got the right size I'm wearing them at every opportunity.They are so comfy, I think I'm lucky as I know for a lot of people them have to wear there Dr Martens in quite a bit before they're actually comfy. When I've got them on I just keep looking down at my feet, at least I'm almost certainly not going to stand in dog poo!
The second thing I'm loving this month is my new slippers, they are really comfy. Hopefully they'll be made of tougher stuff than my last pair as both me and my sister have this amazing knack of demolishing perfectly good pairs of slippers.
They came from Marks and Spencer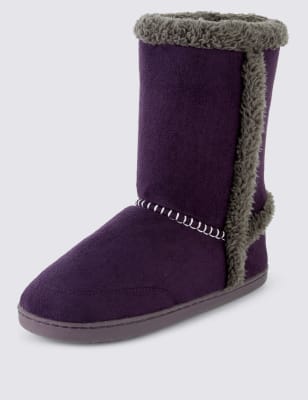 source
This Mirror is so good as it's so clear and so pretty, it's very useful, if like me you have a brace and you want to make sure you don't have food all smammed around your brace. I know it's disgusting!
The book that I've literally just finished reading only last night is Harry Potter and the Order of the Phoenix. As you all probably know by now, I love the Harry Potter books so you probably already know which book is going to be in next months favorites!
For this months song of the month it's Florence and the Machine Queen of Peace
It's from her latest album which can I just say is incredible, me and my sister listen to it whilst we're cooking. Baking and boogieing whats not to like?!